Back to Genealogy
Old and mysterious photos from Farill, Cherokee County, Alabama
These photos were in the possession of my grandfather, George Frank Hardin, at his death. He (1892-1979) and his father George Washington Hardin (1853-1922) grew up at Farill, east of Cedar Bluff, Alabama and west of Coosa, Georgia. Compiled by Travis Hardin (his grandson), Huntsville, Alabama. Updated July 2016. Click on photo for larger picture.
Cedar Bluff School 9th grade, 1937. For identifications, please see the Cedar Bluff page at the AlGenWeb Cherokee County page at http://www.algw.org/cherokee/cb.htm
Aaron Hardin and Mary Ann Calhoun, his second wife. Possibly on the occasion of their marriage 15 Sep 1847. The picture hung on Frank Hardin's bedroom wall, along with his father's picture, until he died.

Group roughly 1900. I have a vague and unreliable memory of my grandfather pointing out the leftmost man as Paul Barkeley and itentifying him as a character or "full of devilment" as he might have put it. Paul Barkley was born December 1884. My grandfather was 8 years younger.

Two unknown children. Both appear to be girls.

This is not a mystery. Four sons of Frank Hardin about 1946, left to right: Floyd, G. R., Ralph, and Gordon.

Cigarette man.

Two unidentified men on a post card. The left one looks particularly like a relative.
Unknown man with bowtie

Man in bowtie, detail
Address side of postcard above showing 1911 copyright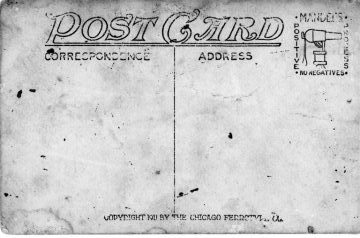 Likely Frank Hardin's wife, Minnie Mae Story, as a young mother (b. 22 Feb 1900), holding baby Ralph Hardin (b. 29 Jul 1919), with William Gordon Hardin (b. 7 Oct 1917). Older boy probably son of Mack Hardin 6 houses away - Dolas Mack b. 1914 or Lee Marshall b. Nov 1911. Derived photo date about October 1919 on a Sunday (boy with tie) at home at Lawrence, Cherokee Co., Ala.
Unknown man with derby hat
Unknown man, detail
Unknown mother and baby
Please send corrections and additions to: Travis Hardin, PO Box 485, Meridianville, AL 35759
E-mail: t.hard@intelec.us; ke3y@comcast.net; travhard@gmail.com.
Back to Genealogy
---